Know Your Blood, Heal Your Hormones
A month long journey to heal your period problems, optimize fertility and enjoy your female physiology!
I'm In
It's time to move from period problems and hormone hell to feeling rooted and resourced in your female physiology.
You may be wondering if it's even possible to move beyond pain or turmoil, which is totally understandable! 
Whether you're navigating 
Period cramps 

PMS or PMDD

Pain with ovulation

Irregular cycles, 

Heavy flow

PCOS, fibroids or endometriosis, 

Hormonal migraines

"Infertility" (and the list goes on and on!), 
You are here because you know there is more to finding a solution than hormonal birth control, painkillers or surgical intervention. Maybe you've already tried those bandaid-like solutions and they didn't work or you've totally rejected them! 
The good news is that more and more women are waking up to the power of their female physiology. There has been an influx of womb and hormone healing education and inspiration for the last several years. 
However, this doesn't always translate to a comprehensive, root level healing approach to period and hormone issues!
If you're here I know you are looking for lasting change and truly effective solutions that help you feel resourced and rooted in your own healing potential, creative capacity and pelvic power. 
You actually want to understand your body and not rely on medical professionals to translate hormonal know how. You're ready to claim the agency, nourishment and healing that you need to fully be in your life! 
Know Your Blood, Heal Your Hormones
is for intelligent, embodied women who want to dive deep into hormonal physiology and ancient wisdom to create lasting hormonal resilience. 
This course is a 4-week journey that walks you through 5 essential womb and hormone healing steps…
Roots: Understand your cycle and get to the root cause

Nourish: Heal Your Gut, Nourish Your Womb

Regulate: Regulate your blood sugar, sleep and nervous system

Liberate: Free yourself from Liver Stagnation, stress and endocrine disruptors

Integrate: Integrate your Womb Heart connection (HPA-O axis), embodied sexuality and emotions
We go beyond the basics and dive deep into how to heal - physically, emotionally, spiritually and sexually. I've walked this path and helped many other women find lasting solutions and transform pain or dis-ease into power, pleasure and possibility. If I can do it, you can too and you don't have to do it alone! 
During Know Your Blood, Heal Your Hormones you will explore womb and hormone healing through the lens of East Asian Medicine, somatic sex education and hormonal physiology.
This course is for you if…
You're struggling with menstrual cramps, irregular cycles or heavy bleeding

You dread your pre-menstrual time because of severe PMS or PMDD

You suspect you might have PCOS (polycystic ovarian syndrome), ovarian cysts or endometriosis

You are preparing to conceive and want to balance your hormones first

You've been told you're "infertile" or you're struggling with conception 

You are coming off hormonal birth control

You are a mother navigating period problems after birth
What you receive by joining:
When you say yes to this course you get immediate access to six modules and daily lessons that will walk you through one whole cycle, healing every step of the way. You can start anytime but I encourage you to begin on your first bleeding day if possible.
Yes!
The modules are: 
🩸
Womb Welcome!
🩸
Week 1: MENSTRUAL
🩸
Week 2: FOLLICULAR
🩸
Week 3: OVULATORY
🩸
Week 4: LUTEAL
🩸
Rooted + Resourced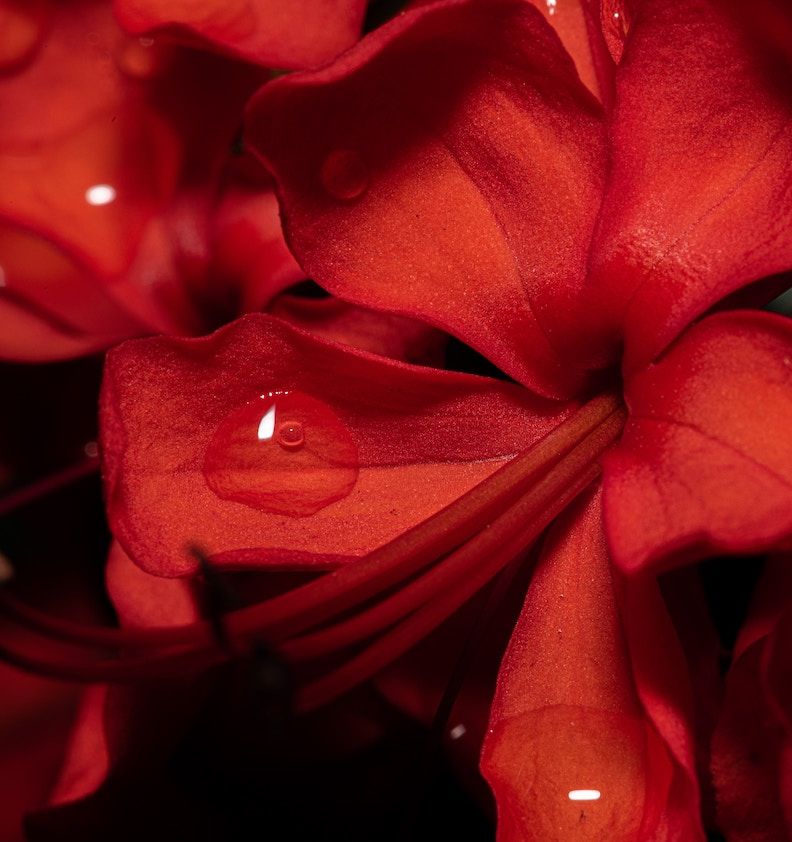 For each menstrual phase module, there are daily, digestible and actionable lessons to support you through the 5 essential steps for womb and hormone healing:
1. Roots: Here you will get to the root cause of your hormone or womb health issue and truly understand your cycle hormonally and from the lens of East Asian Medicine. You will learn about cycle tracking and the Fertility Awareness Method, as well as the basics of East Asian Medicine in relation to cycle health. Tending to the roots is what allows your system to slow down and re-orient towards healing.
2. Nourish: Here you will dive deep into gut health, what foods can support different phases of your cycle and how to truly nourish your primal body. You will be able to discern what is the best diet for you and what is truly required for hormonal health, microbiome resilience and reducing inflammation. Many period health issues can be resolved with dietary changes alone!
3. Regulate: Here you will learn how to regulate your blood sugar, improve your sleep and implement practices for nervous system healing. Regulating your physiology in this way supports ovarian function and gets you out of stress hormone production and into sex hormone production. Your body thrives when it can sense safety and ease at the level of physiology! 
4. Liberate: Here you will free yourself from the hidden and not so hidden effects of stress and Liver Qi stagnation (what is that anyways?!). You'll also slowly and methodically clear your space from endocrine disrupting chemicals. With the tools you'll gain, you will be able to dissolve stagnation and resolve any symptoms associated with it (cramps, PMS, headaches, pain…)!
5. Integrate: Here you will find space to integrate your emotions and a felt sense of your sexuality to ensure that the Womb Heart axis is connected. This supports true hormonal resilience by supporting the hypothalamic-pituitary-ovarian axis. It also roots you more deeply into the power and pleasure of your pelvis. This step is too often missed in books and programs about period healing! How you feel about your womb, what access you have to pleasure in your body and what emotions may be lingering in your pelvis for integration is essential for lasting change. Don't skip this important step!
Each week as you move through that particular cycle phase, you receive new layers of awareness and new practices to work with in a slow, methodical and titrated way that allows your system to assimilate as you go.   
You'll also receive access to a private Womb Medicine network (hosted on Mighty Networks) where you can get more individualized support from me and other community members. Women healing in community, receiving reflections and witnessing is a powerful part of the process.
Investment:
$397 one-time payment or 3 monthly payments of $137 
That's less than the cost of two virtual sessions with me!
If you're ready click below ↓↓↓
"This course is rooted in the fundamental principles that govern how the menstrual cycle works, what and why throws the cycle off, and simple lifestyle changes and practices to create an environment for your cycle to thrive. I left the course with so much reverence for the brilliance of my body and how it's always adapting to current conditions and new tools to shift those conditions to make them more ideal for a healthy cycle. Kristin is extremely knowledgeable about cycle health and women's health overall and was very generous with her time in answering individual questions. I learned so much from the material but also through the embodied practices and transmission."
- Emily A.
"This course was just the right amount of material for me at this time. It touched on many aspects of each phase of the cycle and provided practices that I will definitely use to help find balance during each phase. Kristin has a nice teaching style. She has an ease about her that is comforting and does not go too fast. I highly recommend any course taught by her."
-JD
"I followed every single thing on that course and found it truly fascinating.I had no periods following an ectopic and was told my remaining fallopian tube was blocked. Within just four weeks of the course I began bleeding again. My periods were exactly 28 days apart and I was ovulating, all things I've never ever experienced. Myself and my partner have experienced two lost babies (one very quickly lost, one ectopic as I mentioned). I am excited to tell you that I am currently 8 weeks pregnant, it is in the right place, all my hormone levels are perfect. I can't say thank you enough, no words I write are really going to express how grateful I am."
- Franchesca
Jump on in! You'll get the following bonuses when you join…
✧ Supplement Guide for Period Support: Here you'll learn when to consider supplementation and what supplements are my go-to's for certain issues. 
✧ Infusion making + Herbal Allies for Womb Cycle Vitality: Learn the basics of herbal infusions and some of my favorite medicinals for working with womb and hormone healing. 
✧ Cycle Embodiment Guide: Move to improve your flow! Here you'll receive video practices by Emily Athena of EroSpark Movement that provide functional, meaningful movement for each phase of your cycle. 
I know what you're thinking…
Do I really have time for this?
Why not just work with Kristin one on one?
Womb Medicine's 14 day money back guarantee. 
All Womb Medicine courses come with a 14-day money-back guarantee, no questions asked!
We feel confident in our course's ability to help you truly transform, heal at the root level and be rooted in agency, nourishment and healing. If you get started with one of our courses and decide it's not the right fit, just let us know within 14 days of purchase (or course onset if live) and we will refund you in full. 
We want all our students to find the support they truly need to heal, so no need to explain your reasoning, just ask and we'll take care of it. Womb Medicine is dedicated to serving those who want to be active participants in our community. So far, we haven't had any refunds! 
 

There are infinite healing possibilities, if this one is for you, you'll feel it.